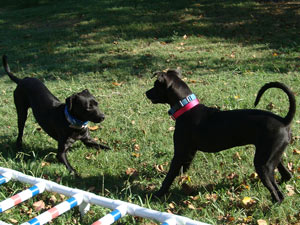 Lucy & Lola are doing great.  They are not having accidents in the house, no growling / barking at the grandparents and they are much calmer. 
They seem like two different dogs!   We are very pleased with their progress.
Lisa from Sugar Land
---
He's doing great.  Nobody can believe how calm he is.  He hasn't jumped on the kids at all or nipped at anyone. He hasn't had any accidents in the house either.  We haven't done much leash walking but from what I've seen he's doing a lot better with that.  He's got great manners now.

Now we're just watching YouTube videos for more tricks to teach him since he's actually calm enough to listen to us.
Amanda from Pearland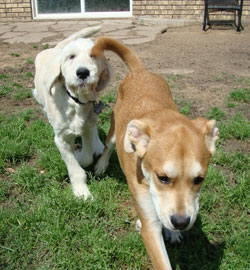 ---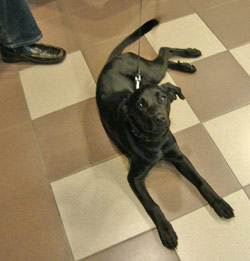 Just wanted to let you know how pleased we were with your dog training class.  The change in our labrador puppy was amazing; never thought she could have learned SO MUCH in such a short amount of time. You went way above and beyond what we expected and we want you to know how much we appreciate it.  The training was easy and fun for all of us.  Your willingness to help in areas other than training (i.e., grooming, health care, etc.,) was especially beneficial.Thank you so much—we look forward to the next level of training.
Bob, Sue & Lily from Sugar Land
---
Just wanted to say thanks again for all the fabulous work you did with my Birdie.  She is a changed gal, and we are so thankful.  The mellow, non-jumping bean of a pup is consistent with her greetings and even with the children.  We are very very pleased and can't thank you enough.Above and beyond her training, I know she got the love and attention we wanted her to have while away, and I'm thrilled to have found it with you and DogS Gone Good.
Ashley, Inner Loop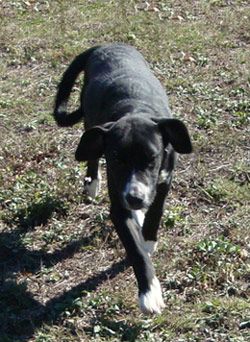 ---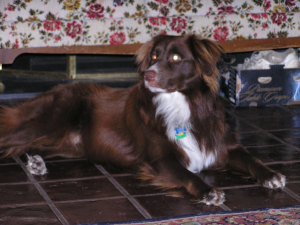 Our Austalian Shepherd, Buddy, has been a lively addition to our family. We also have an older Retriever-Lab mix. Buddy arrived at our home on a rainy day and found his way into our dog pen and made himself at home in the dog house. He was just a few months old. We knew that he was smart but he quickly became more than I could handle.
We went through three obedience classes at a local pet store and he was very quick to pick up the commands that we practiced. We used treats at those times. But at he got older we began to wean him (and ourselves) off so many treats.
He has very sensitive hearing and responds with barking at loud noises. When we were walking, he would bark and lunge first at diesel trucks, then at lawn mowers and ATVs. His herding behavior escalated to school buses and then children on bicycles. When he was in this mode, he would pull so hard, that he injured my shoulders and then my back. We were at a critical point, of re-training Buddy or needing to give him up.
My husband found Tricia's website (www.dogsgonegood.com) and we talked to her about Buddy's issues. We were looking for a trainer who did not use shock collars or negative training. She assured us that she had worked with many dogs who had herding and wheels issues.
We arranged with Tricia to board and train him for 2 weeks. When she brought him home, she spent an hour or so training us to work with Buddy, with the help of a neighbor boy on a bicycle to desensitize him to bicycles. She showed us how to use "higher-value" treats to help him stay focused on us rather than on the distraction. He is a changed pet. And I began to have hope for him and us.
Later we were able to persuade two younger neighborhood children who called him, "That Crazy Dog", to help us with more bicycle training. He was able to sit and let the bicycles ride by and the girls learned that they could pet him, treat him, and not be afraid of him.
It has been almost 6 weeks since he has been home. We walk him everyday and use the "higher value" treats to anticipate whatever the stressor might be –– squirrels, cats, other dogs, bicycles, or trucks. He is doing very well. And we understand now that we will always be in training mode with Buddy.
Thanks to Tricia, our family is much happier and calmer.
---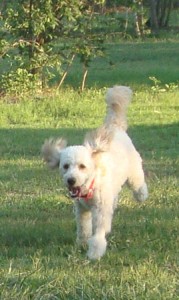 We were at the end of our rope with our 7-month-old goldendoodle, Gabby. She was biting, jumping, barking and making life miserable! We were seriously considering giving her away. Tricia was recommended to us by another trainer. When we handed Gabby over to her, we had high hopes, but were doubtful.
I cannot tell you how pleased we were when Tricia returned her to us three weeks later. She has stopped biting and the jumping is almost under control. She has learned to control herself most of the time, and we now have the tools to help her when she forgets. We are truly amazed at the difference the training has made. We now have a dog who is a pleasure to be around.
Tricia is always available to help us when we have a question or need a reminder for how to handle situations.
We highly recommend Tricia for all your doggie problems.
Owana Been, Montgomery
---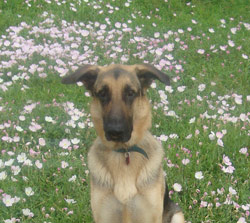 Tricia is great! We sent Koji to Tricia's for board and train last December for aggression issues. When he came back home, Tricia came to our home to train us, and it has been much better than before. We had to send Koji for boarding again this March and of course we thought of Tricia INSTANTLY, it's a 2 for 1 package. Not only does Koji get great care, he is also trained during his stay. Our entire family could all see that Tricia took good care of Koji. Whenever Tricia comes to the house to train him, or picked him up for boarding, Koji would be gravitate and be so affectionate towards her and follows her around willingly. She puts in extra effort to take care of all the animals there. Dogs don't lie, you can tell immediately Koji loves Tricia.
Jenny – Sugar Land
---
Tricia, you are awesome! Carolyn from Inner Loop
---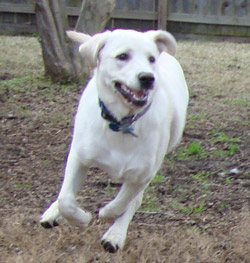 I just had to give you a report! I had company over yesterday and NO JUMPING! I was so proud of him! Thank you so much!I was just so proud of him. He did not even pester us when we were eating or talking! I could not believe the difference in him! He even slept with me last night. Guess he was worn out! Of course he got lots of attention with 3 people playing with him.
 Laura from Hitchcock
---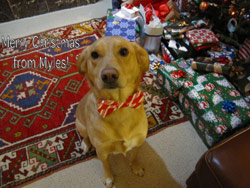 We adopted our Golden retriever mixed breed dog Myles as a rescue dog. We discovered that he was very fearful around new people and this manifested itself as growling and barking. We saw Dr. Lore Haug, a veterinary behaviorist, and she provided excellent help. One of her best recommendations was to refer us to Tricia Fagan, of DogS Gone Good. Ms. Fagan has been absolutely amazing. After one session, Myles was much more calm and I had a list of simple strategies to use and to consider to help keep him safe and make sure he doesn't get put into a position where growling or biting becomes his only way out. She is teaching me to understand and interpret his behavior and how to keep him comfortable and calm. With her help, he will develop into a fine and more confident dog; he already has the charm and looks! Ms. Fagan has studied behavioral analysis extensively; more importantly she really knows and loves dogs. I recommend her highly to those who believe in the power of positive dog training!
Valerie A. Fadok, DVM, PhD
Gulf Coast Veterinary Specialists
---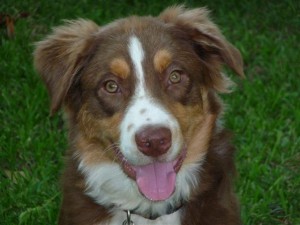 I came to the class having owned and trained many dogs in an old fashioned manner and I left feeling like a whole new world had opened up in front of me. The training has completely changed the relationship with my dog and the way that we approach each other. I have gained knowledge as to why he does and why he does not do certain things and how to manipulate that to both our advantage. It is so much more than a class of sit and stay.
Laurie from Inner Loop, Texas
---
We are VERY PLEASED with Leo.  He has not had one accident inside and he alerts us to his bathroom needs by barking and/or jumping at the back door.  He is still very good at his tricks, too.  The boys love giving him treats and making him do his tricks, especially in front of company.  We are really grateful to you for all you have taught Leo.  I cannot tell you the difference in him since he has been back only that it is now pure pleasure to have him around when before I would get a little stressed out.
Amy from Louisiana
---
Well, I have to tell you that you worked magic with Willie! He has been fabulous! He only had one accident last night – none today. The crate stayed dry all night. He is really getting with the program (as well as I am) and seems happy and eager to try and please us. I was just thrilled with his behavior today.
Later: Willie has continued to do great.
Later: If there was success for Willie there can be success for any dog! You can quote me on that, too!
Andrea from Bellaire
---
After an incident at the vet's office when Carys had to be sedated for a routine procedure, it was suggested that we attend obedience classes to help her overcome some of her anxieties. Six weeks with Tricia taught me how to help Carys overcome her fears from being a stray. I appreciated that Tricia was available to offer advice and suggestions when we faced setbacks, and that she worked with Carys at a level that made Carys comfortable. Now Carys is a happy, well-behaved one year old who listens better and has curbed her negative behaviors. I'd highly recommend Tricia and Dogs Gone Good!
Cathy and Carys
---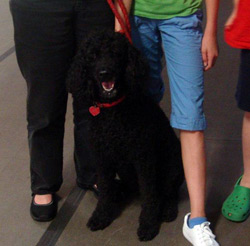 Our entire family (dog included!) learned a lot from our Dogs Gone Good training class. Walking the dog is a more pleasant experience now that we have a better understanding of dog behavior and have learned new tools to keep our dog focused. We would recommend this class to anyone wishing to enhance their relationship with their dog. Getting the people and the dog on the same track makes for a happier home.
Sally, Manvel, TX
---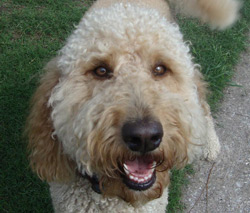 We just can't say enough about DogsGoneGood! Our initial meeting was an hour-and-half in-home session. Tricia came armed with the secret weapon: deli turkey. It's low in fat and our labradoodle LOVES it. She went though proper walking on a leash and relaxation techniques. Most importantly, she let us try the exercises and critiqued. After just one week of us working with our labradoodle on the things Tricia taught us, she was greatly improved. We also took advantage of doggie boot camp while on vacation for two weeks. Our dog came back calmer and better behaved. Tricia spent ample time with us reviewing everything she worked on and followed-up with us a few days later. We are so pleased with the results and would not hesitate to contact DogsGoneGood if any behavioral issues arise in the future. Thanks for everything!
Stephanie from Pearland
---
We sent our puppy to Tricia to gain some obedience training and she brought home to us a confident and well mannered young Lab.  He is really the love of our family. His obedience is good and he is learning more each day as we practice the commands with him and we have since added one new command. He knows that obedience begets rewards and this is important in training him.
We recommend Tricia and Dogs Gone Good to anyone who wants to entrust their beloved pet to a person who is a great trainer, but also one who puts her heart into caring for the pet you love.Gary from Inner Loop Houston
---
My husband and I took Sophie, our beloved shepherd mix, to the six-week puppy course. We loved the schedule and accessiblity – Sunday afternoons at a local veterinary's office.
The class size was perfect for personalized attention, and attention we got! Tricia never let any of her pupils or their parents get away with fudging it, no matter busy the situation got. Tricia's experience and love of her profession was evident. She was down-to-earth and realistic. She was always ready to answer individual parents' questions. Her weekly e-mails with homework assignments were helpful, not only in reminding us of our responsibilties but preparing us for our next class as well.
It is a foregone conclusion that I am always going to recommend "Dogsgonegood".
Christiane in Sugar Land
---
With several questions about the raising of two puppies, we contacted Tricia Fagan for a series of private sessions. We found Tricia very knowledgeable on the care and training of young puppies. Her approach to training was behavioral based with incentives. She is an experienced dog trainer who truly enjoys her occupation/vocation.
Nancy from West University, Texas
---
You are the best trainer I've ever had the pleasure of working with. I doubted that Bella would ever become a calm, attentive dog, but you had patience with the both of us and I can see your methods of positive reinforcement really do work. Her behavior is very much improved. Thank you so much!
Jackie, Veterinary Student