Your dog rests all day, waiting for you to come home. When you come home tired from work, your puppy is ready to GO! Feeding your dog in a food dispensing toy will keep him mentally and physically occupied while you take a break. Some food toys are chewable, and some are not. Chewable food toys can help the dog learn to chew on the correct things. Feeding your dog in a toy can also slow down a fast eater.
For many food dispensing toys, you need to start with the easy toys, then move to more difficult ones.
Chewable Food Toys: 
Orbee toys: Many toys made by Orbee are chewable and can be used to feed your dog. Very easy, for the dog not familiar with food toys. From the smallest to the largest:
Orbee Rasberry, 1 3/4″, only for the smallest of dogs:
Orbee Golf Ball, 2 ¼"
Orbee Tennis Ball, 2 ½"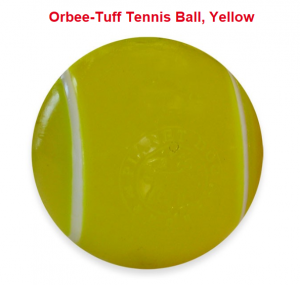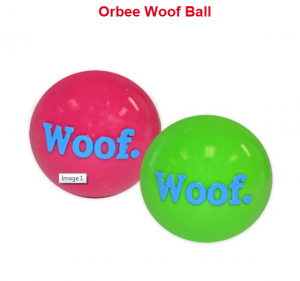 Soccer Ball, 5"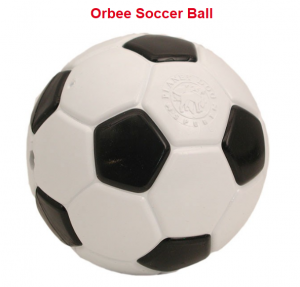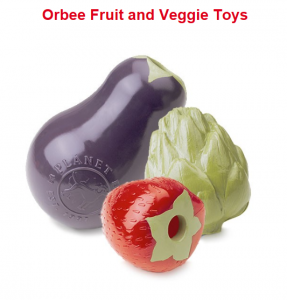 Orbee Fruits and Veggies, various sizes
Canine Genius: Canine Genius has created two chewable food toys, the Leo and the Mike.
These toys may be purchased directly from Canine Genius in two different sizes and many colors:
The Canine Genius toys have also been licensed by the Kong company. The Kong company makes these toys in three sizes and many colors: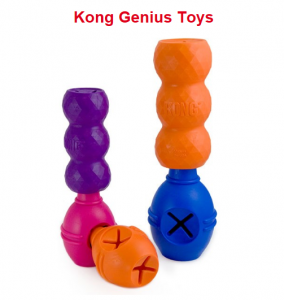 Squirrel Dude
This toy comes in three sizes, and is almost always purple. The food comes out one end, once it passes Premier's "treat meter". The treat meter consists of several soft rubber prongs that slow the delivery of the treats. Chewable!!! This toy can be found at your local pet store.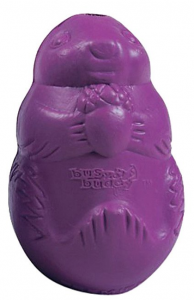 Kong – The way you stuff it determines the difficulty.
Kong is perhaps the oldest, best known dog chew toy. It can be stuffed with treats or kibble. If you do not make the food stick inside the kong, it will just fall out. In order to make the food stay inside the Kong a bit longer, stuff it with a combination of soft and hard foods (kibble). Soft foods can be peanut butter, cream cheese, or canned dog food. When your dog has become skilled at removing food from the Kong, you can increase the difficulty by freezing it.
Kongs are color coded according to hardness. Regular adult dogs use red kongs. Tough chewers need black kongs. Puppys need blue and white or pink and white. Kongs come in many different sizes.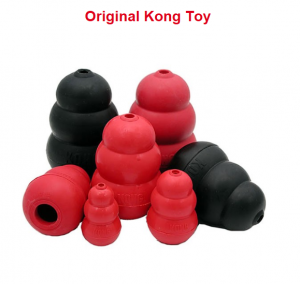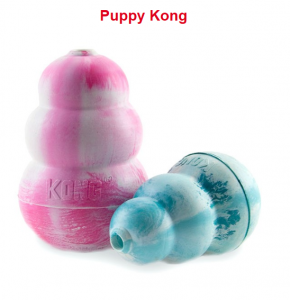 Kong recipies can be found here:  http://www.kongcompany.com/worlds_best.html
Food Toys that are not chewable:
Kibble Nibble: Fairly easy, an egg shaped hollow toy with two holes. Not chewable.  Available in two sizes.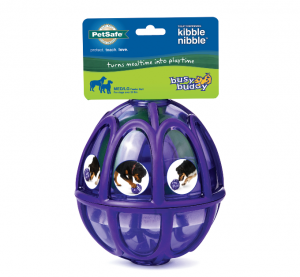 Amaze-a-Ball – Beginning, Easy
This toy comes in three sizes and several colors. Any size dog can use the amaze-a-ball, most dogs will be able to pick up and perhaps chew the ball. This ball has a maze inside, and your dog must roll it around until the dog food comes out the end.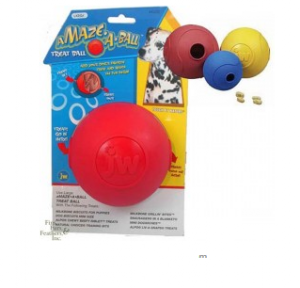 The Atomic Treat Ball: Not chewable, but does come in two sizes. Easy to intermediate difficulty.
Nina Ottoson – Dog Pyramid – Intermediate to Advanced Difficulty
This toy is not a chew toy. It is fairly easy for you to fill with almost any size kibble (dry dog food), and is fairly difficult for the dog. The bottom of the toy is weighted, so the toy pops up to a vertical position. It is a one piece toy, and does not come apart. I do not recommend anything but dry or semi dry treats for this toy. This toy comes in red, blue or pink. This is one of the harder toys, you might start with something easier.
Bob-a-Lot – Intermediate to Advanced Difficulty
Two sizes, only one color. Not meant to be chewed. *Watch the video!* 
It does *not* come apart for cleaning or anything else. 
When your dog is good at food toys, you can move on to a harder toy. 
Tricky Treat – Advanced Difficulty
The tricky treat toy comes in two sizes. It will not survive much chewing. Most dogs will use the larger size. The smaller size is about the size of a tennis ball.
Wobbler
Kong has a new food dispensing toy that is intermediate to advanced level difficulty. An excellent design for feeding your dog, this toy is not chewable, but does come in two sizes:
Good Luck!